Description
Do you want to store leftovers from your meals and pack them suitably for lunch at work? Status vacuum containers are also your best choice if you want to organize your pantry and make the best possible use of the space in your refrigerator. The Set of Smaller Rectangular Vacuum Containers is ideal for a one- or two-person household.
A set of smaller vacuum containers: 4 vacuum containers + vacuum pump
Four different sizes of vacuum containers guarantee a variety of uses and allow you to store a wide array of foodstuffs in your household.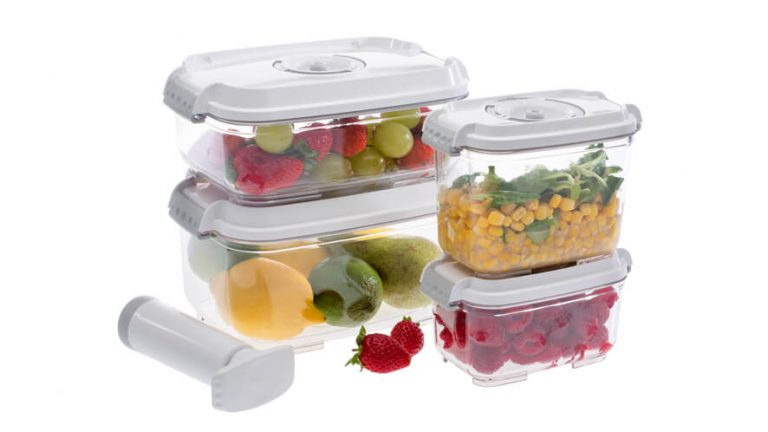 How does vacuum packing work?
Vacuum packing is the best way of storing your household's foodstuffs because it keeps them fresh in a natural way. To extend your food's shelf-life up to four times, you don't need to add any kind of (harmful) additives, such as are used in chemical preservation. It's enough to extract the air out of the container removing oxygen, which causes food to oxidise. This way you destroy the ideal conditions for microorganisms to grow and develop and so prevent your stored foodstuffs from going bad or losing their aroma and nutritional value.
Vacuum storing cannot prevent oxidation entirely, so keep your foods in the refrigerator.
Unpleasant odours don't spread from vacuum containers
Foodstuffs stored in vacuum bags and containers are hermetically sealed, which also prevents smells from spreading in your freezer and refrigerator. This also makes vacuum containers the safest option for transporting liquid foods. Homemade soup for lunch at work? No problem. Store your food in our 0.8-litre vacuum container and you'll be able to transport it safely to work. There you can reheat it in the microwave (up to two minutes, with no lid) and enjoy a pleasant homemade meal.
Buying the Status set of smaller vacuum containers is an investment
Vacuum containers are guaranteed to stay in use for many years. They are made of high-quality Tritan material, which doesn't take on the aroma or colour of the food and is shock resistant. Even with regular use and washing in the dishwasher, Status vacuum containers will serve your daily food storing needs for years.
Utilise the space in your refrigerator and kitchen cabinets wisely
Status rectangular containers are the right choice for every kitchen where storage space is an issue because they are designed to use the available space efficiently. Optimal utilisation of space is also made possible by the special shape of the lids, which allows the containers (even of different capacities) to be stacked on top of each other. You can arrange our set of smaller containers in two stacks – combine the 2-litre container with the 1.4 litre container, and the 0.5-litre with the 0.8 litre. This way you'll have a better view of what's in your refrigerator and a more efficiently organised cabinet space.
Each container lid has an inbuilt calendar intended for marking dates. Use the pointers to indicate the food's shelf-life or the date you stored it. What this means for you is that you'll have a better overview of the content of your refrigerator or pantry. You'll be sure to throw out less spoiled food and thereby save a substantial amount of money each year.
Maintenance
Vacuum containers are simple to wash. They can be washed by hand or in a dishwasher using ordinary dishwashing products. Some care is required when washing gasket nozzles to avoid damaging them with rough sponges.
The vacuum pump doesn't require special maintenance. If it gets dirty, wipe it with a damp cloth. If needed, lubricate the inner tube with paraffin oil. Do not wash it in the dishwasher.
Materials
Our vacuum containers are made of BPA-free Tritan. The lids are made of ABS plastic, and the gaskets and valves are made of silicone. All our materials are food safe.