Description
Our grandmothers dried home-grown apples, pears, and plums in their wood-fired ovens; unfortunately, not everyone has such an oven; our climate also doesn't allow air drying, which is why we must use more modern accessories. We get as close as possible to ideal conditions by using electric fruit and vegetable dehydrators. These allow us to precisely set the drying temperature and adjust the conditions when we need to.
Drying is the oldest way of preserving fruit. Besides freezing and preserving chemically, it is also the best way to store home-grown food for the winter. Drying, or dehydrating, extracts water, which prevents microorganisms from developing and causing food to rot. See how to use a fruit, vegetable and herb dehydrator in your household.
Healthy homemade dried fruit snacks
Take advantage of the abundance of home grown fruits and vegetables in the summer and fall and prepare healthy snacks for the winter. Apple rings are sure to bring back memories of your childhood years. Dehydrate plums, cherries, and peaches or prepare a homemade vegetable mixture of carrots, leeks, onions, celery, peppers, chives, rosemary, and basil. This homemade herbal mixture will make your meals even tastier. Since it contains no preservatives or additives it is also suitable for those who are sensitive to certain ingredients in store-bought spice mixes.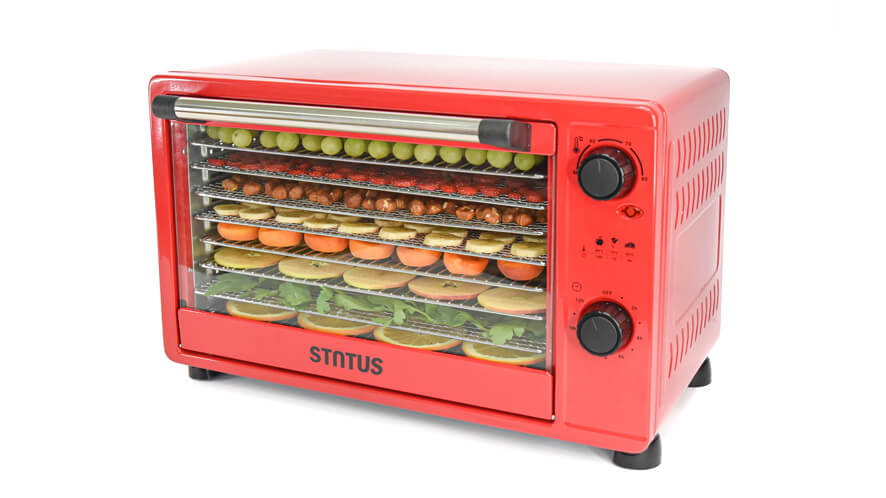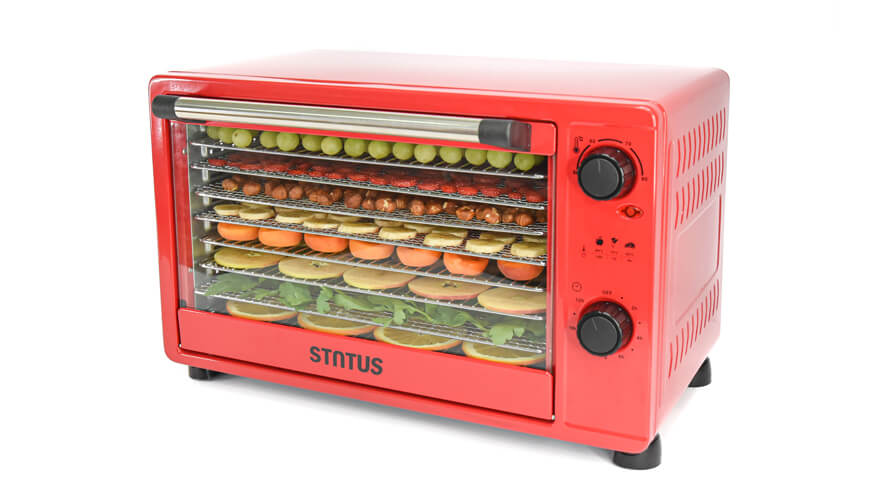 Drying mushrooms
Passionate mushroom hunters surely already know that freezing mushrooms in ordinary bags is not the best way to store these autumn delicacies. Mushrooms suck up aromas and moisture from the environment like sponges. Drying is the best way to store mushrooms. It even emphasises their aroma. This is why dried porcini mushrooms make so many dishes taste better. 2 or 3 slices of dried porcini mushrooms, or half a table spoon of ground mushroom essence will be enough to season risotto, mushroom soup, cream sauces, and pot stews.
You can do the same to enhance the taste of soups and sauces cooked with frozen vegetables in the winter. A few slices of dried carrots will emphasise the taste of carrot soup or stew nicely. Be creative and also dehydrate onions, garlic, rosemary, and much more; your family will be pleasantly surprised by the taste that will remind them of the summer.
Ideas for drying fruits and vegetables
Prepare dehydrated fruit for your children because it's rich in vitamins and fibre. Let them enjoy without feeling guilty; trick them with colourful vegetable crisps instead of the store-bought variety. Dry some carrots, onions, celery, leeks, peppers, and chives; grind and mix them to make a homemade tasty spice mix that doesn't contain any preservatives or flavour enhancers.
For more ideas, see the attached user manual. You can also download the free e-book with recipes and tips.
The many uses of the Status Fruit, Vegetable and Herb Dehydrator
The dehydrating appliance is versatile and can also be used to make yoghurts, treats for cats and dogs, for drying nuts, and making citrus and floral decorations. For more ideas and suggestions read the included operation manual; we also put together a free e-book with recipes for a variety of treats you can make in the dehydrator.
Why choose the Status Dehydrator with the capacity of 30 litres?
It includes eight trays for drying big and small food items. Its metal housing guarantees the best possible drying process, using as little electricity as possible, and there is no danger of fire, like with plastic dehydrators. The side fan blows the air horizontally – that means you simply turn the trays from left to right if you recognize it is necessary. There is no need for circulating the trays on different levels like with round dehydrators where the air flows up or down.
Eight drying trays with a total work surface of 0.74 m2 (one tray measures 370 x 250 mm) will be enough to makes large amounts of fruit snacks or to dry all the vegetables for your homemade spice mix. We recommend foods with similar structures and humidity content are dried at the same time because the drying processes for vegetables, fruits, and herbs are very different from each other.
Dehydrating foods is definitely the kind of process that needs to be monitored and adjusted. If you notice that individual food items are drying faster than others, take them out of the dehydrator and store them impermeably. If you notice the food items near the fan are drying faster, simply turn the trays halfway through the process so that these foods are away from the fan.

What is the best way to store dehydrated foods?
Apple rings and pears, and especially dried mushrooms quickly absorb humidity from the environment; this is why they need to be stored impermeably immediately after they cool down. Vacuum sealing bags and vacuum containers are the most suitable for the job because they seal impermeably and also keep the foods safe from external pests.
Maintenance and cleaning
Before first use, run the dehydrator empty for at least one hour at the top temperature. Wash the trays after each drying session, either by hand or in a dishwasher. The simplest way to remove the dried-on leftovers is to soak the trays in warm water and brush the persistent dried-on foods off after a few minutes.
Materials
The housing and trays are metal and the door is made of tempered glass.