Description
Did you know you could cut onions into equal cubes in one stroke? Dicing onions in this simple way is made possible by the Status Onion Cutter which can be fitted with an additional XXL attachment for dicing larger strips or cubes of fruits and vegetables.
Cutting cubes in two moves
Make preparing salads and pot stews easier on yourself by using the additional attachment for your Onion Cutter. Dicing is quick and easy – place the food item in the cutter and press down with both hands; this will result in 18 x 18-millimeter strips. If you want to cut the food item into cubes, place the strips on the blade horizontally and cut again.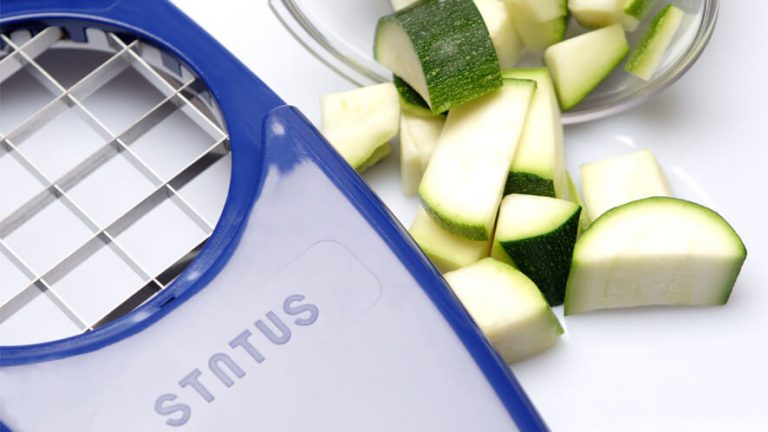 Making vegetable dishes and salads
Use the XXL attachment for cutting:
vegetables (potatoes, zucchini, cucumbers, pumpkins… ) in strips or cubes – for a healthy snack, pot stew, or mixed salad.
fruit for fruit salad or healthy children's snacks etc.
cheese and sausages for cold-cut platters or as additions for mixed salads or pasta sauces.
You can store the cut foodstuffs right in the collecting container and keep them fresh longer using our Universal Vacuum Lid 3.
What makes the Onion Cutter so handy to use
When dicing with the Onion Cutter you'll keep your kitchen counter clean, because the diced food items are gathered in the collection container, which is fitted above the blades.
The cutter is completely safe to use without having to worry about cutting yourself because you are never in direct contact with the blades. Under adult supervision, even children can use it and make their own healthy and tasty snacks.
Maintenance
Wash the XXL Blade Attachment by hand or in a dishwasher. Disassemble the cutter before washing it (remove the top component of the blade from the base, and unscrew the collecting container), this way you'll clean all the folds more easily. Dry all the components well before reassembling the cutter.
Materials
The cutter is made of resilient ABS plastic that guarantees many years of use. The container is made of Tritan, and the blades are stainless steel. All materials are food-safe.
Status 3-year warranty on accessories
We guarantee the quality of our products with a three-year warranty.