Description
Are you looking for a vacuum accessory that will enable you to store leftover meals, open canned fruits and vegetables, and other foods in the kitchenware you already own? Use the Universal Vacuum Lid 3 if you often find mouldy jam or a murky jar of pickles in the back of your refrigerator.
Our Universal Vacuum Lid with the diameter of 13.5 centimetres vacuum seals open jam jars
Our Universal Vacuum Lid 3 is suitable for use on containers and receptacles made of various materials. It is important they have straight edges. Vacuum seal:
a plastic or ceramic bowl of salad,
a glass jar of jam or pickled peppers,
a can of fruit or vegetables, and
a metal or INOX pot of soup leftover from dinner.
Store the foodstuffs in the same pot or container you made or bought it in and save yourself quite a bit of washing up.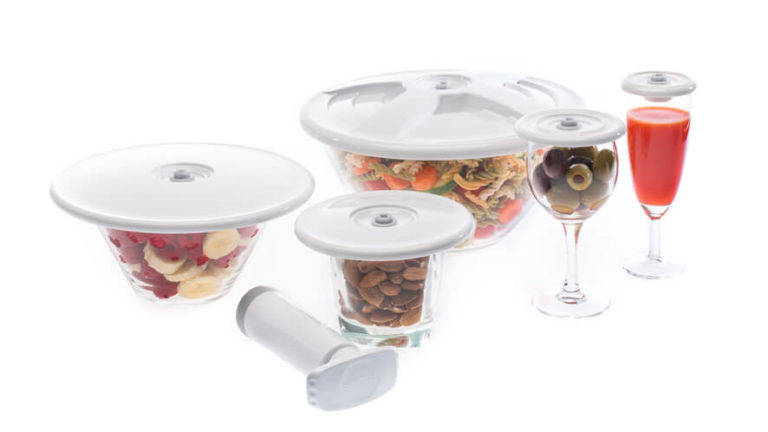 Vacuum store foods to extend their shelf life
The Universal Vacuum Lid can create vacuum in any container with a straight edge and slow down the spoiling of foods. A drastically limited contact with oxygen, which is food for bacteria, slows oxidation which causes food to go bad, rotten, and lose its aroma. According to a survey conducted by the European Commission in 2016, reducing the amount of spoiled food in your household will save you up to 325 € each year. At the same time, the food you'll eat will be more nutritious, because vacuum also preserves vitamins and minerals better.
One vacuum lid fits pots and other kitchenware of various dimensions
With the Universal Vacuum Lid measuring 13.5 centimetres in diameter you'll be able to seal containers sized between 6 and 12 centimetres – from a small jar of jam or pickled vegetables to cereal bowls and pots. All you need is a vacuum lid and a pump.
To vacuum pack with vacuum lids you don't need many accessories
All you need for vacuum storing foods with our universal vacuum lids is a lid of appropriate size and a vacuum pump. The pump can be manual or electric. You can also vacuum pack using the Status Vacuum sealing device, which also has a function for vacuum sealing containers. One press of a button and your foodstuffs will be vacuum packed at the appropriate vacuum pressure. The pump is not included with the purchase of individual vacuum lids.
Universal Vacuum Lids are not hard to maintain
The Universal Vacuum Lid 3 is washed with ordinary dishwashing products. Avoid rough sponges and aggressive washing products, which could damage the sealing components on the bottom of the lid. The Universal Vacuum Lid is also suitable for washing in the dishwasher.
Materials
The Universal Vacuum Lid is made of ABS plastic, which is made to last. The gasket on the lid and valve are silicone. Materials we've used are food-safe and are safe for contact with food. 
Vacuum stored foods must be kept in the refrigerator because though vacuum considerably slows the deterioration of food it cannot prevent it completely.