Description
Do you want to keep your foodstuffs from spoiling and preserve their nutritional value because you care about eating healthy food? If you don't know about the benefits of vacuum storing yet, we recommend you read the text below.
Why store in vacuum?
Vacuum storing is the best way to extend your food's shelf-life and keep it fresh because it is an entirely natural way of keeping the food from going bad. With no harmful additives, merely by extracting the air from the vacuum container you will slow down oxidation, which enables the development of microorganisms and mould, and prevents the loss of aroma, flavour, vitamins, and minerals. What this means for you is that you will be eating food of greater quality with higher nutritional value and simultaneously throw out less food and so save quite a few € each year.
Storing in vacuum containers is also the best way to protect your foods against various pests such as pantry moths, ants, and flies while at the same time organising your kitchen cabinets or pantry. The transparent containers make it easy to find the food item you're looking for. The specially shaped lids enable containers to be stacked on top of each other and make the best possible use of your space. All our round containers measure 13 cm in diameter, so you can stack any of them (0.75; 1.5 in 2.5 litres).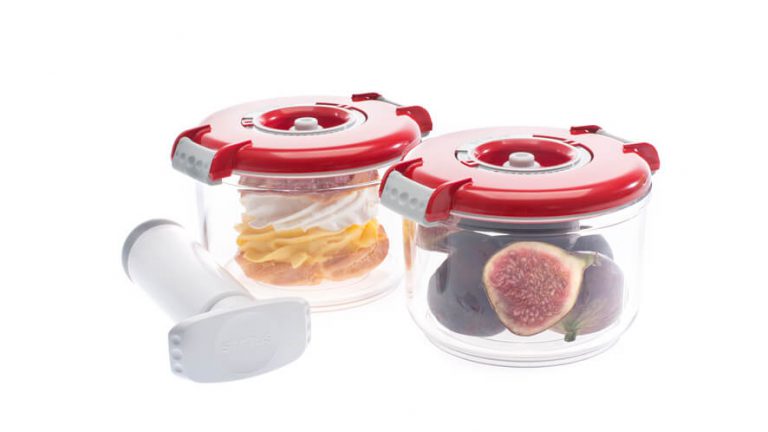 What makes Status (round) vacuum containers the best choice for your household?
Status vacuum containers are made of superior tritan material. This guarantees they will last for many years, because the material is shock resistant and does not adopt the colour or smell of food. This means that you can use the same container to store several different kinds of foodstuffs – from coffee to Bolognese – with no lasting effects on the plastic.
Round Vacuum Containers are also suitable for reheating in the microwave, for up to two minutes without the lid on. Ideal for a quick lunch or snack at work.
We've upgraded the previous Status containers by adding a calendar to the lid
Do you also find it difficult to remember when you stored which foodstuff? Do you find containers of leftovers hidden in the back of your refrigerator and can't possibly remember when they ended up there? For minds occupied with other cares and worries, the lids of the vacuum containers are fitted with calendars that can be set to show the day and month the food was stored or its use-by date.
There are many ways to use the 0.75-litre vacuum container
Use our smallest round vacuum container to store:
leftovers from your meals, that you want to last longer and don't want their aroma to spread around your refrigerator;
snacks, so they don't lose their crispness;
foods you want to keep safe from pests;
coffee, to preserve its distinctive aroma;
packed lunches and snacks to take on the road, which you want to keep from spilling or scattering.
Our smallest round vacuum container, 0.75 litres – maintenance
Status vacuum containers don't require any special maintenance. You can wash them by hand or in the dishwasher. Choose your sponge and dishwashing product carefully, to prevent damaging the fastening components – the gasket and valve on the lid.
Our Round Vacuum Container is made with materials, which are entirely safe for food storage
Our vacuum containers are made from high-grade tritan, a shock resistant material that guarantees a long lifespan. The lids are made of ABS plastic and the gaskets are made of silicone. All the above materials are BPA-free and food safe.
Status recommendations
In order to vacuum store you need a pump; you can choose between a manual and an electric vacuum pump.
Vacuum storage cannot completely stop the process of oxidation; this is why we recommend that you keep sensitive foods in the refrigerator.