Description
Introducing solid foods into your baby's diet can be challenging and further strain the already busy schedules of new mommies. Sometimes the baby is so hungry, that she cannot bare to wait for her meal without tears; at other times she rejects all food. Make preparing your little gourmet's meals easier on yourself with baby food vacuum containers. Take advantage of the time your baby is sleeping to prepare a stock of meals. Vacuum packing ensures that your pureed meals and BLW foods will preserve their high nutritional value, and you'll be able to offer your baby a nourishing and healthy meal at the first sign of hunger.
Vacuum packing preserves vitamins and minerals
Vacuum packing is the best way to store foodstuffs because it extends the shelf-life and freshness of your food and prepared meals in a completely natural way. Removing air and thereby oxygen prevents oxidation, which is the main cause of food deteriorating. Oxygen is food for bacteria, which cause rotting, loss of vitamins and minerals, and unpleasant smells. Without introducing any harmful additives, vacuum packing prevents food from going bad or altering its taste. This is what makes vacuum packing the best option for storing meals for our youngest.  
High-quality BPA free materials
Status baby food vacuum containers are made with the highest-quality materials, which guarantee your food will be stored with no danger of contamination by unwanted substances. The containers are made of high-grade tritan, a BPA-free material that doesn't adopt the contained food's odours or colour. The lids are made of ABS plastic, while the valve and gaskets are made of silicon. All materials are food safe and suitable for contact with food.
Baby Food Vacuum Containers are also suitable for reheating
High-grade materials guarantee that our containers will be used for years, even if you wash them in the dishwasher, freeze them, or reheat them in the microwave oven (no lid, up to two minutes). Even after several years of use, the containers will not lose their original sheen or colour because, unlike the competition, they don't accumulate limescale or take on the colour of the foods they store.
Use Baby Food Vacuum Containers to store snacks, processed foods, and BLW meals
Let mommies use their free time to rest and gather their strength, because a rested mommy is the best mommy. Vacuum storing enables you to pre-prepare meals or cook larger portions and save what's left over for the next day, or freeze it for next month. Baby Food Vacuum Containers are suitable for storing cooked meals as well as fruit and vegetable snacks.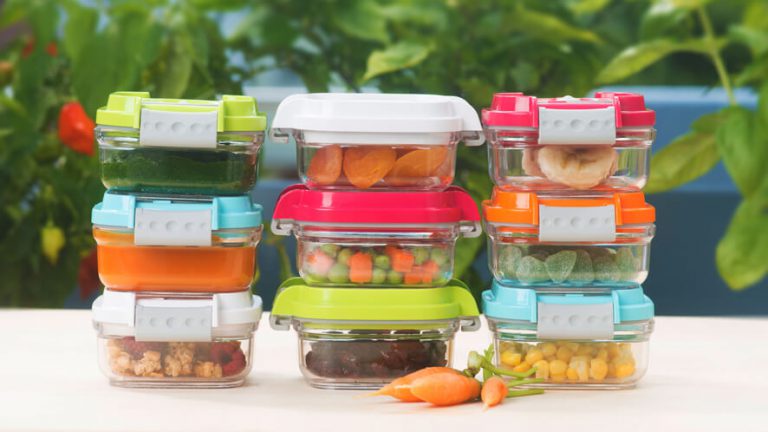 Vacuum containers are the best choice for storing snack on the go
Baby Food Vacuum Containers seal hermetically and are perfect for taking your meals on the road. Prepare processed food or even soup and take it with you to the park. The contents of the vacuum container will not spill in your bag because it can only be opened by releasing the vacuum valve.
Baby Food Vacuum Containers stack on top of each other
Baby Food Vacuum Container lids are designed to stack one on top of the other making use of the space in your refrigerator and freezer. The lids also contain a calendar, which enables you to note when a food item was stored and its use-by date. This way, even with all your other cares, you won't forget when you prepared which meal.
Baby Food Vacuum Containers are also suitable for spices and other small foodstuffs
Once your child is eating with adults and no longer needs the containers, you can use them to store spices, various sauces, as well as non-food items such as screws, batteries, hair accessories, pins, and similar.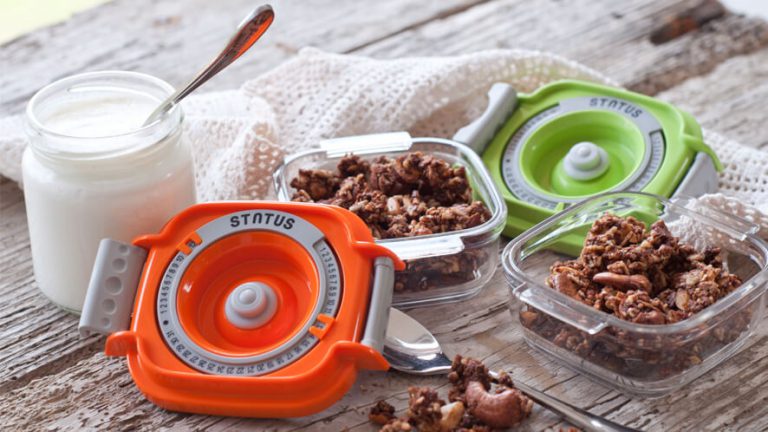 Maintenance
Vacuum containers can be washed by hand or in the dishwasher using ordinary dishwashing products. To prevent damage to the fastening components, do not use scrapers or rough scrubbing sponges.
Volume and dimensions
Individual containers hold 0.15 litres. Without the lids the containers measure approximately 8 x 8 x 3.5 centimetres.
To be able to vacuum pack you need a manual or an electric pump, which is sold separately.
Vacuum packing slows oxidation but doesn't stop it completely, which is why we recommend that you keep your prepared meals in the refrigerator.