Description
Are you always running out of appropriately sized storage containers? Are some too big, others too small? Are you using one designated container exclusively for storing meat and another for fruits and vegetables or biscuits because your containers get stained by the marinade and adopt the smell of garlic or other aromatic ingredients?
Choose high-quality vacuum storage containers that don't adopt smells of contained foods
Status containers are made with high-quality materials (BPA-free Tritan) that don't take on the food's aroma or colour, which is why you can use the same container to store aromatic foodstuffs (onions, garlic, or fresh meat) as well as biscuits.
The special lids of Status containers allow them to be stacked on top of each other to make the best use of available space. Our set of 1.4 and 2-litre containers will take up the space of the width and length of a single container.
A special calendar on the container lids can be used to mark the date of storing your soft cake or its use-by date. What this means for you is that you will always know how long your food will stay good.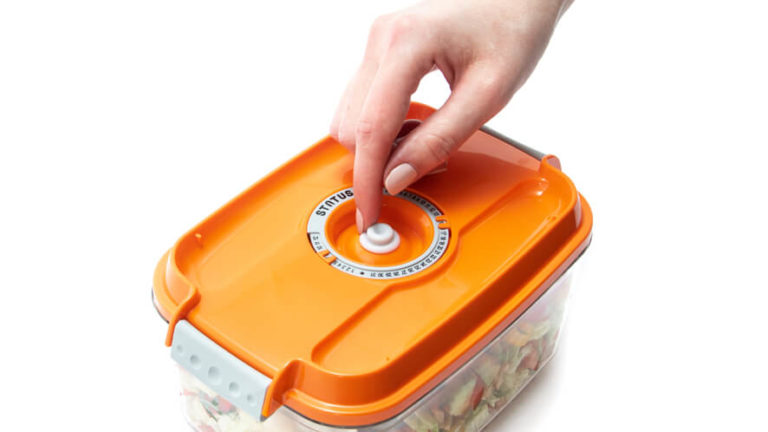 Our 3-piece set of vacuum containers and pump is just as suitable for storing holiday cookies as meat and vegetables
Use the 1.4-litre container to store homemade cookies to keep them fresh and crispy longer. Lovers of healthy foods will use the rectangular vacuum container to store fruits and vegetables or other healthy snacks.
The rectangular vacuum container with a capacity of 2 liters is suitable for storing larger pieces of fruit and vegetables as well as larger baked goods.
You can also feel free to use the set of vacuum containers to store all other types of food you want to make last longer. The size of the containers is perfect for storing leftovers and salads.
Complete vacuum cannot be attained, which is why foods need to be stored in the refrigerator.
Vacuum storing for higher-quality meals
The several advantages of vacuum storing will ensure that you eat healthier food and save several hundred euros each year.
Vacuum prevents oxidation, which extends the shelf life of the foods stored in vacuum containers up to four times. This occurs completely naturally, without impacting the taste of the food whatsoever. You extract the air from the container with the vacuum pump and create unsuitable conditions for the development of bacteria. This lends your foodstuffs a longer shelf-life and greater nutritional value. At the same time, this is a hassle-free way for you to save money by throwing out less food as well as eating more healthily.
Cookies, stored in vacuum containers will also be shielded from the smells of other foods in the refrigerator or pantry. Vacuum containers seal hermetically, so even onions sitting right next to the container won't impact the smell of your stored cookies.
Maintaining food-storing containers
Food storage containers are easy to clean. Hand wash them with ordinary non-aggressive dishwashing liquid or wash them in a dishwasher. Be mindful not to damage the gaskets with any rough sponges.
The vacuum pump doesn't come in contact with food, so there's no need to wash it under running water or in a dishwasher. If it gets dirty, wipe it with a damp cloth. After prolonged use, it needs to be lubricated with paraffin oil.
Materials
Vacuum containers are made from Tritan, lids are made from ABS plastic, and gaskets and valves are made from silicone. All materials are food safe.