Description
Vacuum containers are a great addition to any kitchen. Full Tritan vacuum containers are easy to use and effective. They are made of high-quality material Tritan which guarantees long-term use for years. See how you can use them in your kitchen.
Vacuum containers with a vacuum indicator
We integrated a vacuum indicator for all of you who use a manual vacuum pump. The green indicator shows you when the optimal vacuum is reached. While extracting the air, observe the indicator. When it concaves, the optimal negative pressure is reached and your food is safely stored.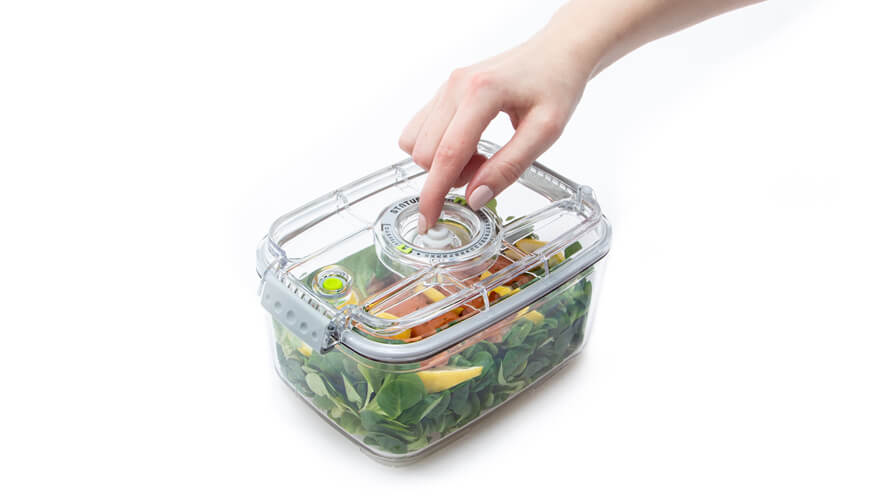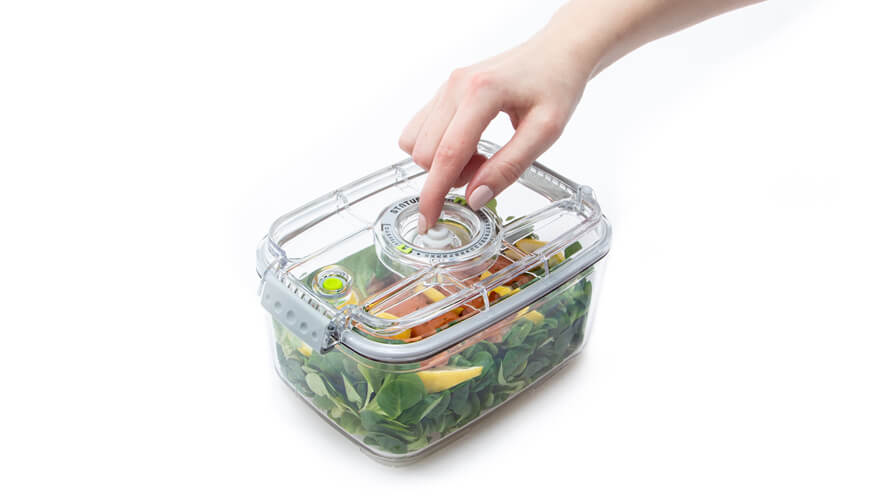 Prolong the freshness of food
Vacuum containers prevent oxidation and by that suppress food deterioration. This means you will have more time to use up the foodstuffs, particularly fruits and vegetables. Suppressed oxidation also improves the persistence of vitamins and minerals.
Marinate faster
Vacuum opens the pores of the meat and it allows the marinade to penetrate the meat deeper and faster. There's no need to marinate the meat overnight. Two hours will suffice. That's just enough time to prepare the salads and the side dish.
Freeze and reheat in the microwave oven
Do not throw food away! Vacuum pack the leftovers from lunch and store them in the refrigerator or in the freezer. Use them to make a quick lunch on busy days.
Take away food
Use full tritan vacuum containers set to bring lunch to work or school. Vacuum-sealed containers are impermeably closed. There is no fear of spilling.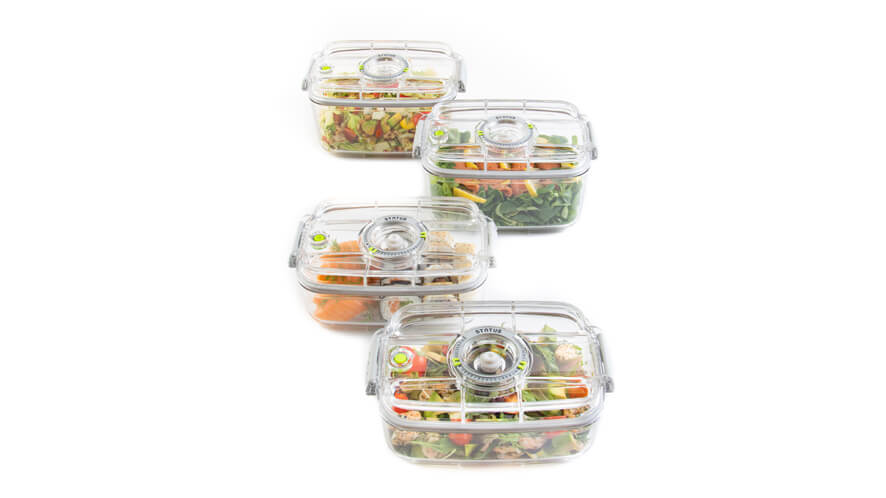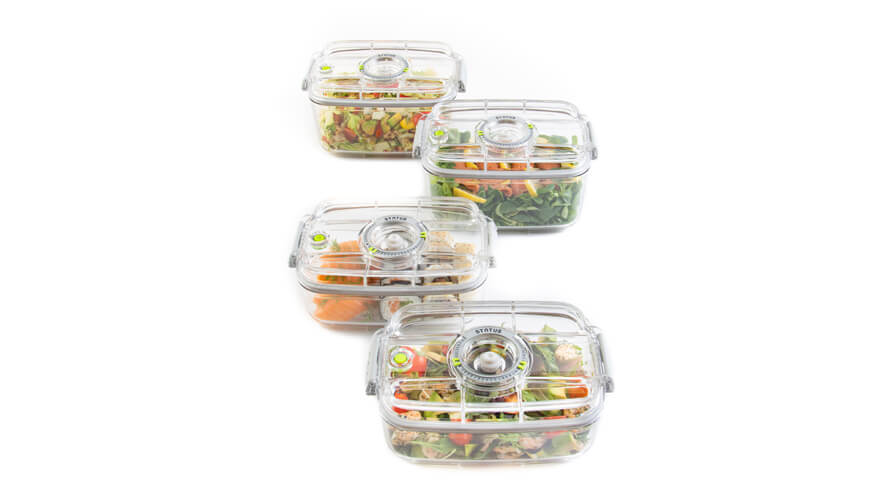 Foods you can store in vacuum
Vacuum containers can be used for all kinds of foodstufs. Full tritan containers do not absorb the smell or the colours from foods.
Store:
leftovers or preprepared meals to prolong the shelf life;
whole or cut fruits to preserve the freshness and the vitamins;
cold cuts and cheese to prevent the unpleasant aromas in the refrigerator;
meat in marinade;
picnic nibbles to transport them to a distant location without spilling;
snacks for on the go;
ingredients in the pantry to prevent moths.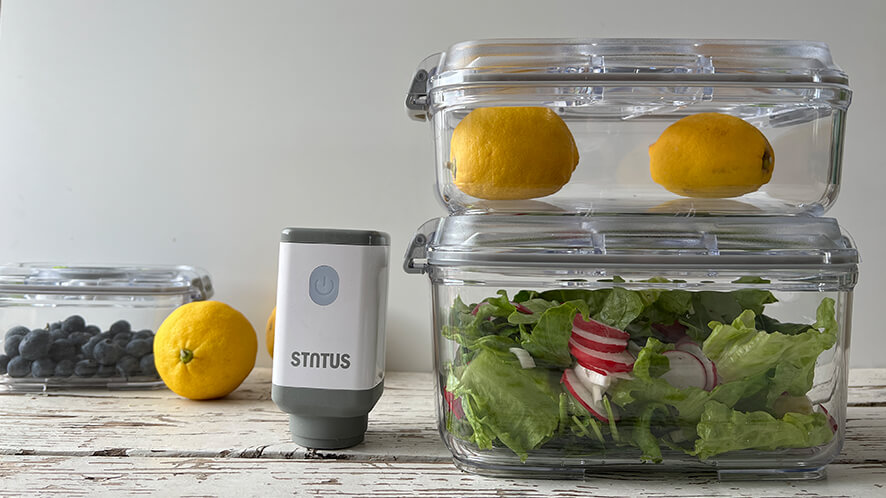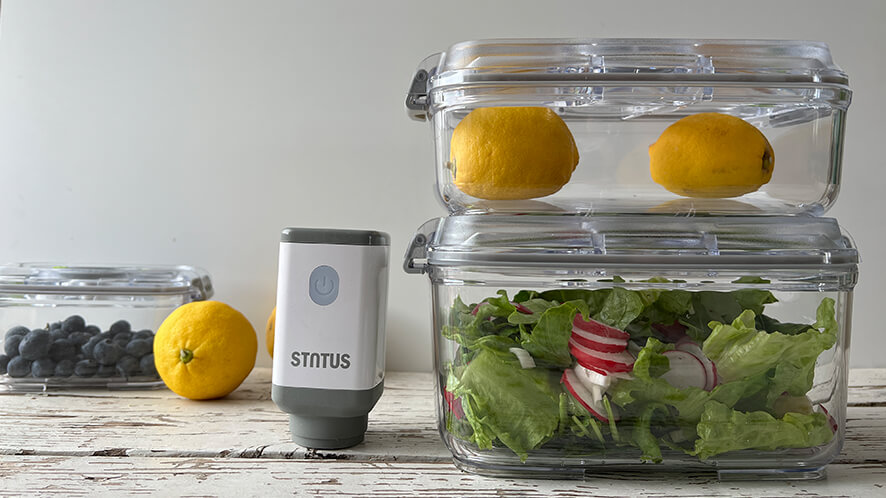 5-piece set of Full Tritan vacuum containers
The set includes:
Maintenance
Full Tritan containers are dishwasher safe.
Material
The containers and the lids are made of Eastman Tritan. The gaskets and the valves are silicone. All materials are certified and food safe. The vacuum pump is made of ABS plastic and the gasket is silicone.