Description
Have you been thinking about renovating your holiday house or bathroom for a while, but you can't seem to make up your mind whether to do the job yourself or hire a professional? With EasyTiler, your decision is simple, because it's going to do the toughest part of the job for you.
The EasyTiler Bucket Set includes 200 clips for a spacing of 1.5 mm, and 200 wedges
400-piece starter kit for levelling tiles includes everything you need to start laying tiles. The included clips with the 1.5-milimetre stem are suitable for ceramic tiles that are between 3 and 12 millimetres thick.
Wedges (200 pieces) ensure that the neighbouring tiles will stay perfectly level until the adhesive or mortar dries. They are reusable.
Clips 1.5 mm (200 pieces) are the link between two tiles. You can only use them once, because the lower part breaks off and stays under the tiles when you remove the clip.
The handy bucket will keep the wedges and the rest of your clips safely stored and ready for the next time you'll need them.
Why use our system for evenly laying tiles?
EasyTiler is a revolutionary system that levels and straightens tiles while you are laying them. With our system laying tiles will be quicker and easier, no matter if you are a professional or a do-it-yourself craftsman.
The system is perfect for laying large tiles on floors or walls.
The clip's unique shape even makes it possible to level tiles of different thicknesses.
The clips are simple to remove with no need for additional tools– the clip cracks at the specially shaped intended spot.
You will get professional results in less time.
Take a look at how simple it is to use the starter kit for levelling tiles.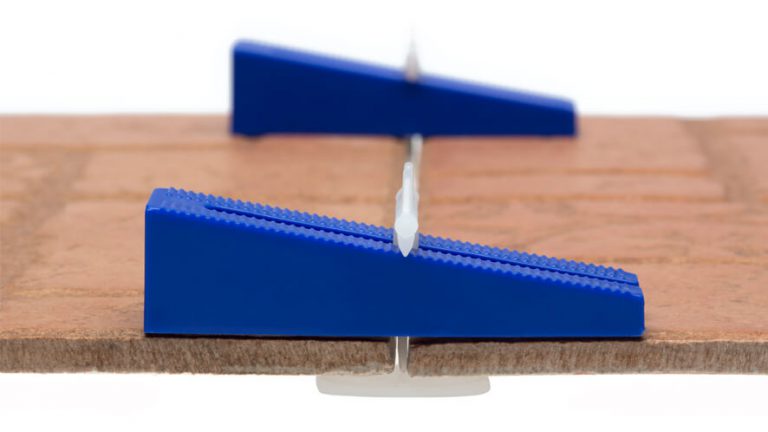 How does the system of clips and wedges for laying tiles evenly work?
When laying tiles, insert the clips between two neighbouring tiles. With larger tiles, use two clips on each side of the tile. Then push the wedge under the clip and tighten – now the tiles are aligned in height. To make your job even easier, use EasyTiler pliers. For a clear demonstration of how to lay tiles using the EasyTiler system watch the video.
EasyTiler wedges and clips prevent the tiles from moving while you're laying them until the adhesive dries.
The EasyTiler system can be combined with all types of tile spacing crosses.
The wedges for laying tiles evenly will make your job easier whether you're an expert or a do-it-yourself craftsman
Even craftsmen that lay tiles professionally, rely on devices for evenly laying tiles. Working with a tile levelling system is simpler and gets the job done faster. The tile levelling system is particularly handy when laying large-format tiles.
Kitchen, bathroom, basement, weekend house, or balcony
EasyTiler spacers and wedges can be used either on floors or walls. They are suitable for levelling tiles of different dimensions and materials – from 3 – 12 millimetres thick – for ceramics, stone, or marble. Now you no longer have an excuse to postpone the renovation of your apartment or weekend house.
For thicker tiles (from 15 to 24 millimetres) use EasyTiler Higher Clips. If you want wider spacing between the tiles, use the EasyTiler Blue Clip with a 3 mm-tall stem. All types of our clips can be used in combination with our basic EasyTiler wedges.