Description
Why not handle renovation by yourself? The EasyTiler tile levelling system will do the hard part for you and ensure professional results. Even professional tilers depend on tiling accessories because they help them get the job done faster and with less hassle.
EasyTiler is a revolutionary tile levelling system
With the Status patented tile levelling system, you level ceramic, stone, and marble tiles as you are laying them and achieve professional results with less hassle and in less time. Tile levelling wedges and clips are appreciated by professional tilers and DIY  tilers handling their own renovations. The EasyTiler system will prove most helpful when laying larger-size tiles.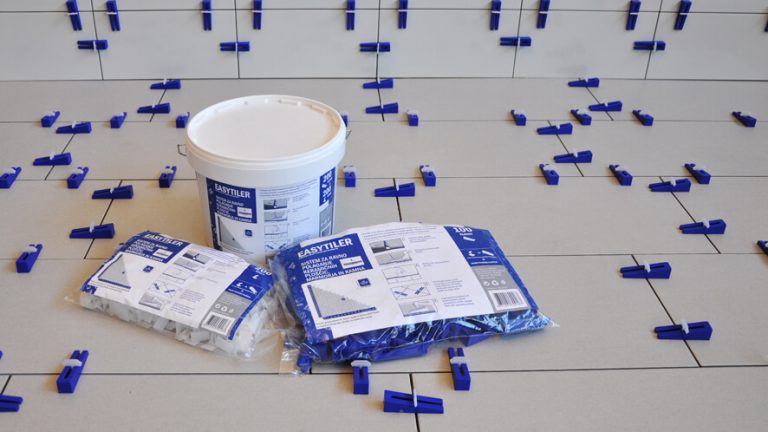 EasyTiler Tile Levelling Wedges
Blue wedges combined with your chosen clips will level neighbouring tiles in height and set the width of the spacing between tiles. The special function of the wedges is that they keep the tiles perfectly straight, from when you start laying them until the adhesive or mortar dries.
They are intended for reuse and you only need to buy more if you're tiling a larger surface area and the 100 pieces of our starter set are not enough for the job.
They can be used in combination with all three types of EasyTiler clips:
When you're tiling a larger surface, we recommend the use of EasyTiler pliers, which will make tightening the wedges and clips even easier. You can choose between pliers for floor- and wall tiling.
Advantages of using the tile levelling system
It levels all kinds of ceramic tiles, marble, and stone – even of various thicknesses.
Simple removal without the need for additional tools – you can kick them away.
Professional results in less time and with less hassle.
Use on floors and walls, without having to buy additional equipment.
Tackle the renovation of your kitchen, bathroom, or lay tiles in your basement or on your balcony
It's time to stop delaying your renovations and waiting for the tiler to set the date for the work to start. The EasyTiler system is simple to use and also suitable for beginners. For more detailed instructions, watch the video presentation of how to use it.