Description
Do your drawers get dirty quickly because food clamps don't seal your flour or sugar completely impermeably? Do you need a smart solution for storing foodstuffs in their original packaging? See our solutions for food bag clips below.
Versatile bag fasteners
Fresh Stick food bag clips are simple to use and can be fitted on all types of bags such as the original packaging of coffee, polenta, and crisps as well as ordinary Polyethylene (PE) bags. Use them for dry foods as well as those that need to stay wet such as soft mozzarella cheese.
Re-seal an open bag of crisps or other salty snacks to keep them crunchy
Seal fine grain foods (flour, meal, salt, and sugar) to stop them from spilling in your drawers and cabinets.
Impermeably seal the coffee bag so that the coffee will preserve its pleasant aroma even after you've opened the pack.
Keep mozzarella fresh in its own liquid by sealing the original packaging with our Fresh Stick Fastener.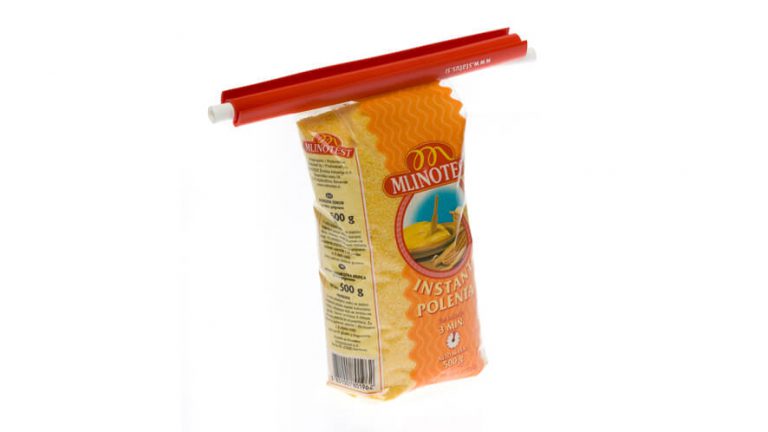 Alternative uses for our fasteners
Fresh Stick bag clamps are small and compact, which also makes them suitable for:
sealing bags with snacks and sandwiches for your outing,
storing liquid personal hygiene products in your suitcase,
sealing open vacuum bags, for example when you've used some food and want to store the rest in your freezer (larger portions of soup vegetables, sliced fruits for smoothies).
Fresh Stick Fasteners – simple use, guaranteed effectiveness
The fastener is made of two parts – a red u-profile and a white tube; they close appropriately-sized bags quickly and easily; no special effort or precise placement required. Put the red u-channel on one side of the bag and the white tube on the other and clasp together. The bag containing the food is now impermeably sealed and ready for storage, freezing, and transport. Unlike using ordinary food clamps, the bags sealed with Fresh Stick stay smooth and without creases, which prevents any air from getting in and any liquids from getting out where the bag is clamped.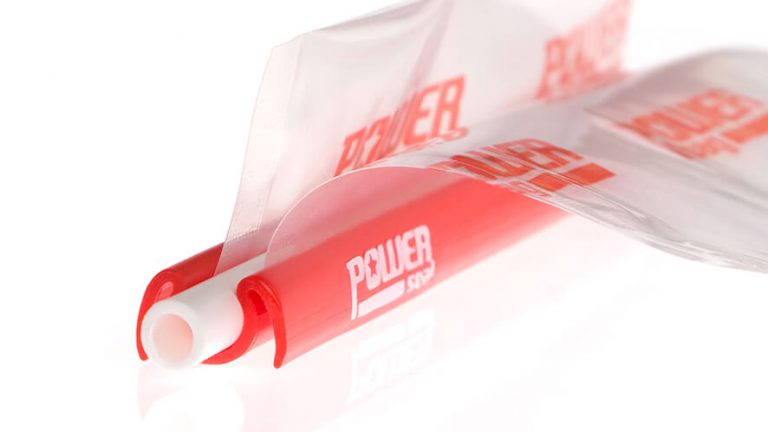 Adapt the length of the fasteners
The Fresh Stick set includes six food bag clips in three different sizes:
2x short fasteners, measuring 17 centimetres,
2x mid-sized fasteners, measuring 22 centimetres,
2x long fasteners, measuring 30 centimetres.
You can also adapt the length of fasteners to the food packaging. You can cut individual fasteners in half to get two shorter fasteners for narrower bags such as small pouches of salt, powdered sugar, tea, etc.
Materials
The fasteners are made of polyethylene, a food-safe material that guarantees the product will last a long time.
Maintenance and cleaning
With correct use, the fastener will not come into contact with foodstuffs and will not need any particular cleaning. If it does get dirty, you can wash it by hand or in a dishwasher.
Impermeable storing is not a substitute for vacuum storing. For long-term preservation, we recommend vacuum storing in vacuum bags and containers because extracting air with a manual or electric pump or vacuum sealer machine will remove oxygen and prevent oxidation.