Description
Do you eat a lot of fruit and vegetables and need a large container to store the leftover halves after a single meal? Do you often throw out fruits and vegetables you've started and left out because it rotted or oxidised? If you haven't tried vacuum storing yet, read on to find out more about its advantages; we have no doubt that you will find several ways in which it can benefit your household.
Why vacuum pack?
Vacuum is an environment without oxygen, which is one of three elements bacteria and mould need in order to develop. By reducing oxygen levels in the vacuum containers you are creating conditions in which the foodstuffs stay fresh longer. For you, this means less food going bad and getting thrown out, and according to the 2016 European Commission survey, also saving up to 300 € a year.
How to vacuum pack?
Vacuum packing is simple. All you need is a vacuum container and a vacuum pump, which can be manual or electric, or you can just use a vacuum packing machine. Just a few pulls on the manual pump or a single press of a button on the electric pump or vacuuming machine will extract the air from the container and slow the development of bacteria and mould.
The Rectangular Vacuum Container with the capacity of 4.5 litres is intended for storing a varied array of foods
Use our largest vacuum container to store all kinds of fruits and vegetables you want to keep fresh longer.
The 4.5-litre container is also large enough to fit bread and other baked goods.
It is also suitable for leftovers, which can be vacuum packed and stored in the refrigerator or freezer.
Use the rectangular vacuum container with the capacity of 4.5 litres to quickly marinate meat. Vacuum opens up the pores of the meat and so enables the marinade to permeate it faster, seasoning the meat in less than half an hour.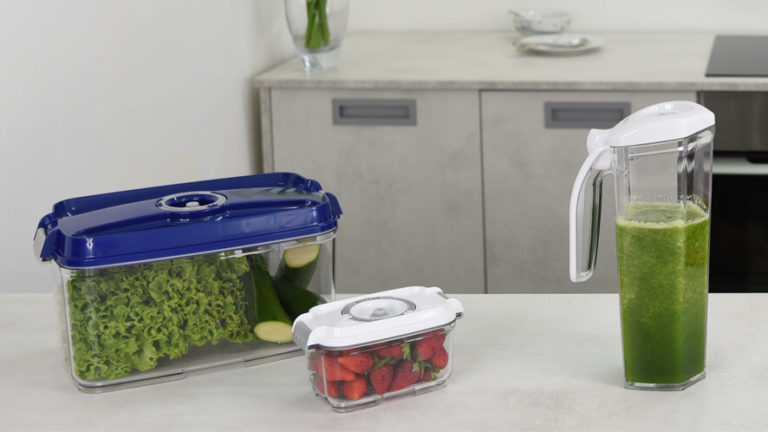 High-quality materials that last for years
The Rectangular Vacuum Container with the capacity of 4.5 litres is manufactured using high-grade tritan, which guarantees that the vacuum containers will be used for a long time. Tritan is food safe and BPA-free. Its main advantage is that it does not take on the colour or smell of the foods it comes in contact with. This is why you can use the same container to vacuum pack a variety of different foods ranging from aromatic onions to cooked meals as well as for marinating meat for the grill.
A 3-year quality guarantee
We guarantee the quality of Status products with a three-year warranty. For detailed information about how to claim warranty contact your local Status retailer.
The measurements of the 4.5-litre container
The Rectangular Vacuum Container with the capacity of 4.5 litres corresponds in length and width to the 3-litre container; this means you can stack them on top of each other and make maximum use of your kitchen space, either in the refrigerator or on the counter.
Length: 30 centimetres
Width: 19 centimetres
Height: 16 centimetres
Specially designed lids with the option to mark the date
Our vacuum container lids are designed to allow containers to be stacked on top of each other. The option to mark out a date on the inbuilt calendar is particularly handy; it ensures that you will never forget when you packed a particular food item or its use-by date, particularly when storing delicate foods.
Cleaning vacuum containers
Vacuum containers can be washed by hand or in a dishwasher. Refrain from using powerful cleaning agents or rough sponges to avoid damaging the edges of the container or the gaskets and valves intended for the pump.
Though vacuum significantly slows the process of oxidation it cannot stop it completely; this is why vacuum packed foodstuffs should be kept in the refrigerator.