Description
Is there a student in your household, who often takes homemade meals with them when they go to college? Do you often go on weekend retreats where you want to enjoy the same high-quality meals you are used to having at home and ensure your foods are safely stored? The travel set of vacuum containers consists of eight food containers and two vacuum pumps to ensure you will always have all the necessary accessories for quality food storage.
Status Vacuum Container Travel Set
We recommend the Status Vacuum Container Travel Set, which includes four-times-two containers of assorted sizes, drip trays for each container, and two manual pumps:
Vacuum storing is the best way to keep food fresh longer and extend its shelf-life
Place the food item in the vacuum container, close the lid, and extract the air using the included vacuum pump. This will slow oxidation, which causes food to spoil and lose its aroma and nutritional value. Your food's shelf-life is now four times longer, which means that you'll have more time to finish the food, which will preserve its vitamins and minerals even after several days in storage. As a result, you'll also throw out less spoiled foods and save money.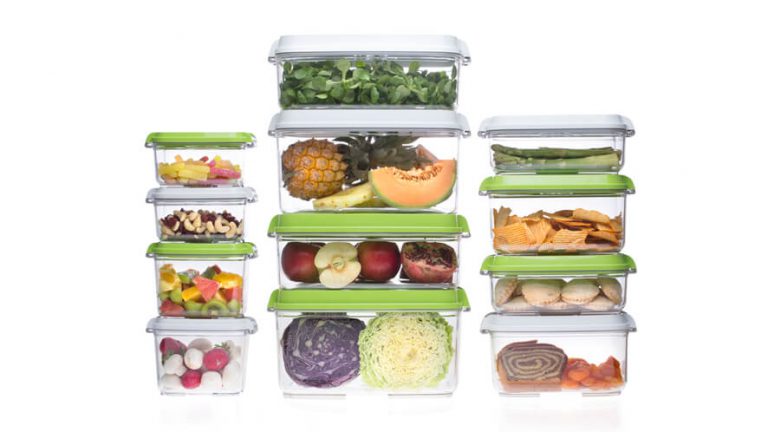 Students will safely transport leftovers (including liquids) to their student accommodation
When containers are vacuum packed, they are sealed hermetically, which makes them entirely safe for transporting food. Even soups or sauces won't spill in your luggage and there'll be no smell of food to annoy co-passengers. Give the student your additional pump, so that he'll be able to take care of safely storing the foods in his refrigerator by himself.
Status vacuum containers are ideal for small (student) kitchens
Status vacuum containers are designed to make the best use of space, which makes them highly suitable for small (student) kitchens. Simply stack them on top of each other and make the best use of all available space.
Their high-grade and resilient materials are suitable for use in the freezer and the dishwasher. Even with regular use, Status vacuum containers will last a long time.
Use the calendar on the lid to mark the use-by date
Strenuous student life causes forgetfulness, so mark the date by which the food is safe for the student to use on the calendar on the lid. Do the same in your own pantry and mark the use-by date of your foodstuffs on the calendar built into the container lids.
Cleaning Status vacuum containers
Maintain storage containers and drip trays using ordinary products for manual or machine washing. Don't use rough sponges to avoid damaging the sealing components.
If needed, wipe the vacuum pump with a soft damp cloth. For optimal operation, lubricate it with paraffin oil after prolonged use.
Materials
All materials are food-safe and BPA-free. The containers are made of tritan, the lids are ABS plastic, and the drip trays are made of PP (polypropylene). The gaskets and valves are silicone.
Vacuum slows oxidation but cannot stop it completely so store delicate foodstuffs in the refrigerator.