Description
Are you still on the lookout for the simplest way to extend the shelf life of your homemade juice? Do you have a baby and need some way of storing baby food to a high standard?
Universal Vacuum Lid 1
Our smallest vacuum lid with the diameter of 6 centimetres will vacuum seal glasses, bottles, and other containers with openings of 2.5 to 5 centimetres in diameter. It is ideal for wide-mouth juice bottles and small glass jars such as those used to store baby food, jam, or smaller packs of pickled vegetables – capers, olives.
Why vacuum pack?
Vacuum storing extends the food's shelf life in a natural way with no harmful additives. Vacuum sealing prevents contact with oxygen, which causes oxidation and makes food go bad. What this means for you is less food to throw away and higher quality of the food you eat because vitamins and minerals are also preserved better in vacuum.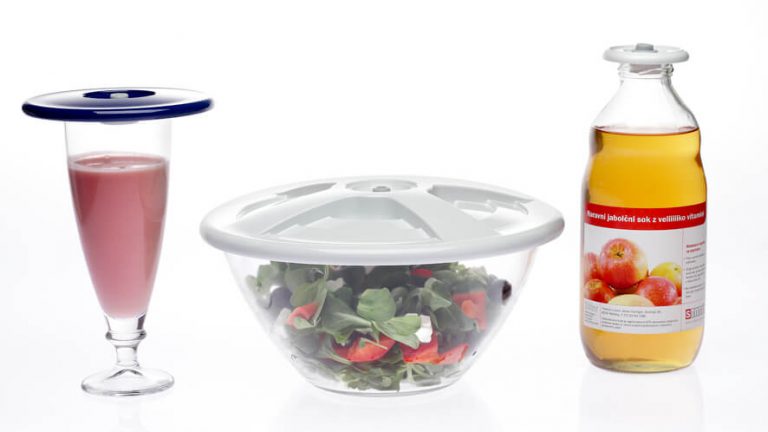 Simple to use with the manual vacuum pump
The universal vacuum lid is simple to use. Place it on the opening and vacuum pack with a few pulls on the manual pump or with the electric vacuum pump. You can also use the "Vacuum Container" function on a Status vacuum sealer machine.
Simple maintenance and cleaning of the Vacuum Lid
When needed, wash the Universal Vacuum Lid 1 by hand with standard dishwashing products, or in the dishwasher. Don't use rough sponges or powerful cleaning products, because they could damage the gasket or valve.
Universal Vacuum Lid Materials
The gasket on the bottom of the lid and the valve are silicone while the universal lid is made of ABS plastic that guarantees that the product will last a long time. All materials are safe for food storage.
Vacuum significantly slows food degradation, but cannot prevent it entirely, so store your vacuum-packed foodstuffs in the refrigerator.
To vacuum seal Universal Vacuum Lids, you need a vacuum pump, which is not included with this product.