Description
How to store leftovers from your daily meal quickly while producing the fewest dirty dishes and at the same time prevent smells from spreading in your refrigerator? Do you prefer to throw leftovers away rather than eating stale food and worrying if the food has gone bad? With Universal Vacuum Lids, you can store all types of foodstuffs quickly and easily; this way you can be sure you won't be throwing away as much food.
Vacuum packing slows down food deterioration
Vacuum packing is the best way to store foods because it's a perfectly natural way to prevent the development of microorganisms that cause food to spoil. By removing oxygen from the pot or container, you considerably slow down the development of bacteria or mould that would cause the food to spoil, change its aroma, and lose its nutritional value. If you store fruits, vegetables, and leftover meals in this way, you'll throw away less food. Did you know that we throw away up to 72 kg of food per person each year?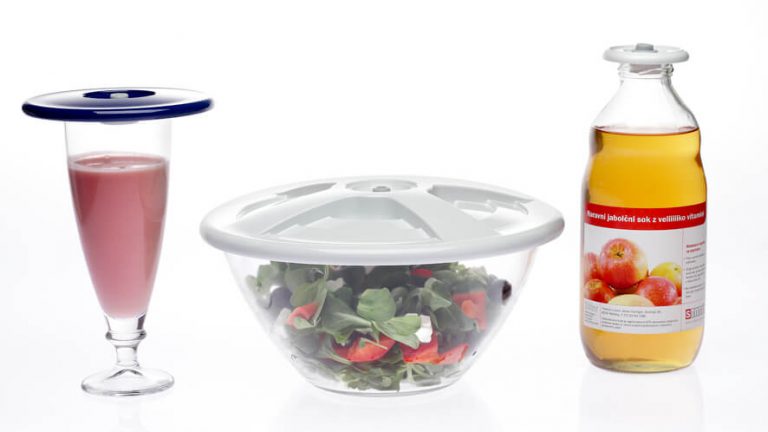 The Universal Vacuum Lid 4 is a versatile accessory for vacuum storing
Use the Universal Vacuum Lid with the diameter of 21 centimetres to vacuum store foodstuffs in all kinds of kitchen pots and containers with straight rims:
glass and ceramic salad bowls,
high-quality plastic containers,
metal and INOX pots.
For vacuum storing foods with the Universal Vacuum Lid, you need a manual vacuum pump, which is not included in the purchase. You can also use an electric vacuum pump BVP130, or a Status vacuum sealer machine, which also has a function for vacuum sealing containers.
Universal Vacuum Lids can be used to vacuum store all types of foodstuffs
When you want to keep food fresh longer and extend its shelf life, store it with the Universal Vacuum Lid. It doesn't matter which pots or containers you're storing the food in; it it, however, important that the rim is straight to enable vacuum to be created.
Universal Vacuum Lid 4 is suitable for storing:
fruits and vegetables in plastic, glass, or ceramic bowls;
leftover meals in pots or other suitable containers;
open canned foods in glass jars or tin cans;
pre-prepared meals in the pot they were cooked in.
By vacuum storing foods you won't only slow down their deterioration but also prevent unpleasant smells from spreading in your refrigerator.
How to clean the Universal Vacuum Lid 4?
The maintenance of Universal Vacuum Lids is simple; they can be washed by hand or in a dishwasher. Just be careful not to damage the gaskets on the bottom of the lid by using coarse sponges or powerful cleaning detergents.
The Universal Vacuum Lid is perfectly safe for use with food
Our vacuum lids are made of ABS plastic, which guarantees endurance and safe use with food. The gasket and valve are silicone. All materials are food-safe and so perfectly safe for storing foodstuffs.